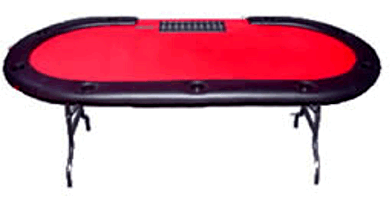 PT 9 Dealer Area $ 439.95
10 Player Home Poker Table
PT9 - Shown with Red Felt

PT10 - Shown with Green & Blue Felt

This Oval Poker Table is 82" x 42" and has a long lasting washable felt with 1/4" padding. A padded vinyl armrest surrounds the table providing hours of comfort. Drink holders are built in the rail. Dealer area, chip tray and money slot optional. Folding steel legs are included for easy storage.
Available with Blue, Red, or Green felt.

Add $30 for 96" x 42" Table

Please allow 3 - 4 weeks for delivery.